GREAT NEWS!! Johnson County Schools will be on regular schedule on Friday, February 1, 2019! We realize that there is another possible weather event, and we are closely monitoring. Should additional snow fall overnight, we will make a school decision based on safety. Stay tuned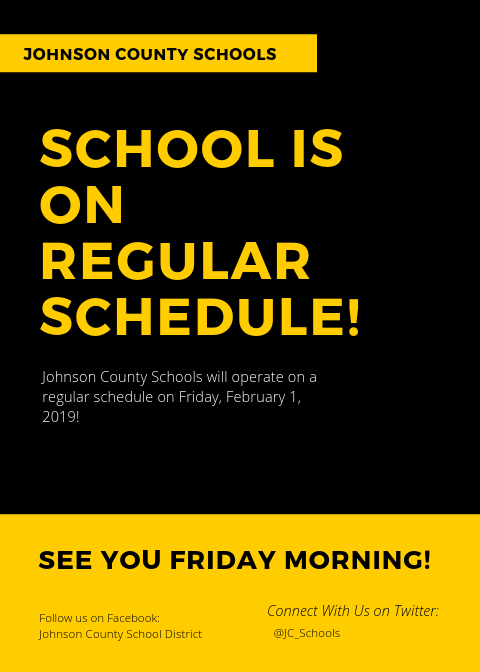 Mrs. Telena Conley's Wellness Class kept mind and body fit during a Non-Traditional Instructional Day. Way to keep moving W.R. Castle Tomcats! #Eagle4Life #JCNTI @castle_wr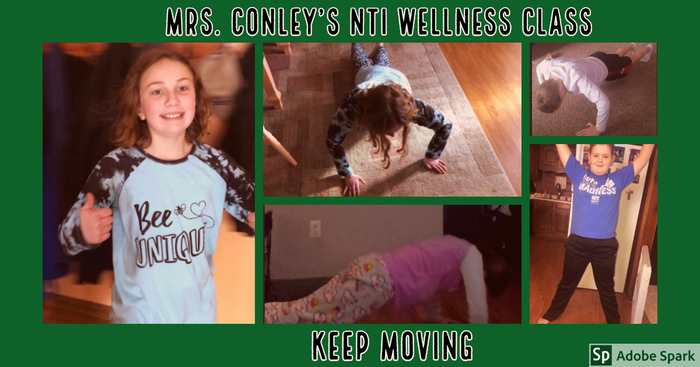 JC Schools will be serving lunch January 31st from 11:00-12:30 in the JCHS Cafeteria for any school age child in Johnson County.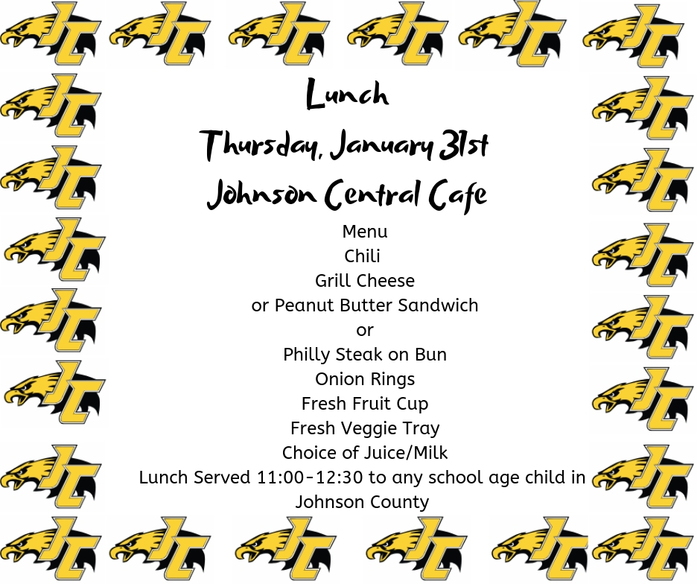 No School In Johnson County Thursday, January 31st due to extremely low forecast temperatures & some ice/snow covered roads.


JC Schools will be serving lunch today from 11:00-12:30 in the JCHS Cafeteria for any school age child in Johnson County.

Free Lunch for Johnson County Students NTI Day 5

No School Wednesday, January 30th NTI Day 5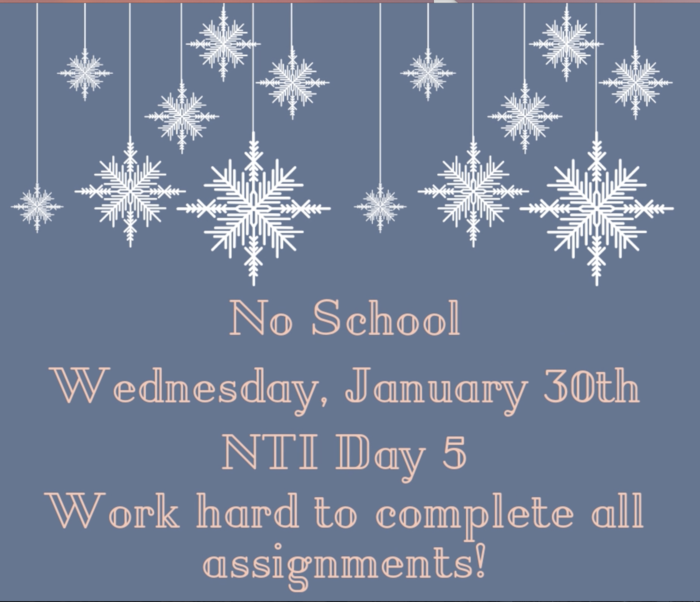 Due to rapidly dropping temperatures and black ice-Johnson County Schools will be CLOSED on Tuesday, January 29, 2019. Please stay safe. #JCEaglePride #Eagle4Life

JCHS invites all former Cheerleaders and Sponsors to the JC Boys Basketball Game vs Sheldon Clark on Monday, January 28!! #JCEaglePride #Eagle4Life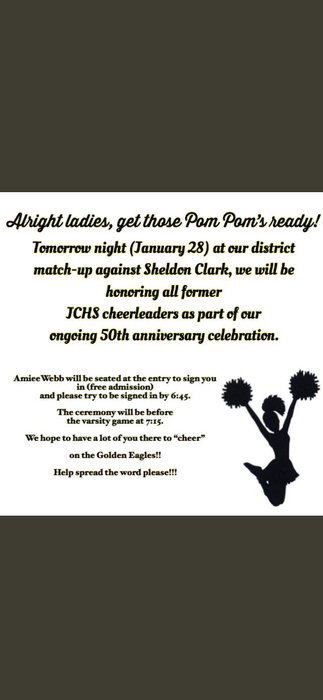 DISTRICT CHAMPS!!! Congratulations to the Johnson Central Academic team for winning the District Governor's Cup title. Good luck at region JCHS!! #JCEaglePride #Eagle4Life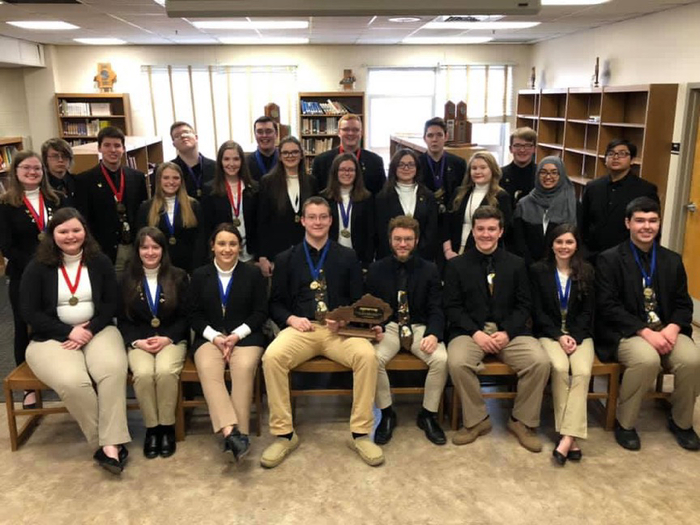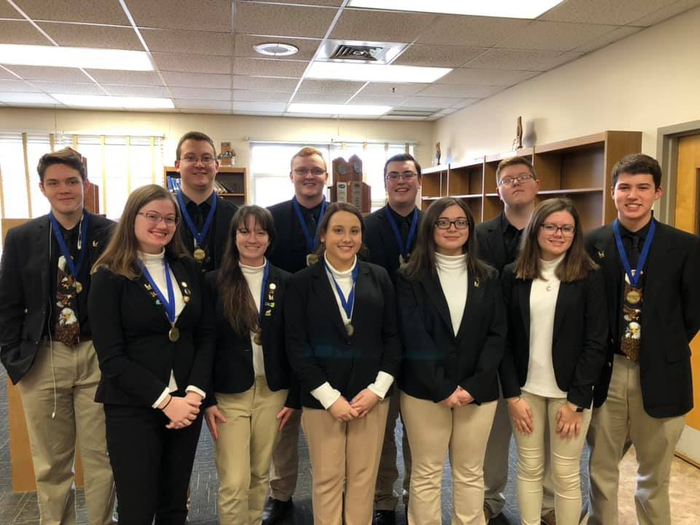 JCHS Wrestling Eagles are State Dual Champions! Congratulations Eagles!! #JCEaglePride #Eagle4Life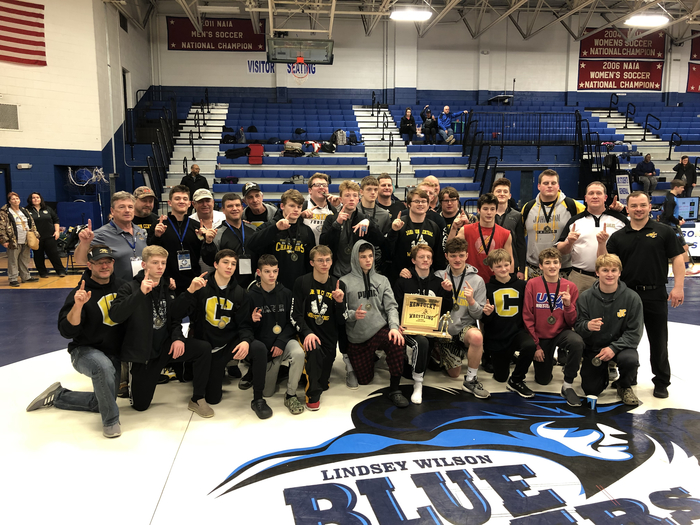 Congratulations to Highland Elementary 4th grade teacher, Mrs. Melanie Ramey, on being selected as a finalist for the Presidential Award for Excellence in Mathematics and Science Teaching! The PAEMST is the Nation's highest honor for teachers of science, technology, engineering, and mathematics. Enacted by Congress in 1983, this program authorizes the President to bestow the award each year. If she is selected as the State Winner she will get to go to the White House to receive the award. Good luck Mrs. Ramey!!

100th Day of School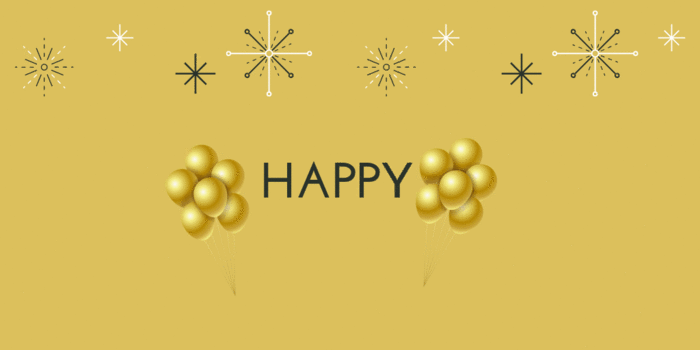 Lunch is being served at JCHS from 11-1!! Run over and grab a warm meal before the weekend starts!! Students, remember to get your NTI work completed!! #JCEaglePride #Eagle4Life

Free lunch today at JCHS for any school aged child- 11:00am-1:00pm. Help us spread the word!! #JCEaglePride #Eagle4Life

No School Friday, January 25th NTI Day 4


Please share!! Cheerleaders, Coach Tommy McKenzie was informed today that Sheldon Clark has had to move our game to Monday instead of Tuesday. I am so sorry but in order to for SCHS to complete district play, they had to reschedule their district opponents. So, we will be honoring former cheerleaders MONDAY same times same place same opponent. We are so sorry for the inconvenience, and please help us spread the word!!

Due to illness, potential snow/ice covered roads on Thursday morning, and another snow threat on Thursday night along with cold temps/single digit windchill in the forecast, Johnson County Schools will be CLOSED the remainder of the week. Friday will be an NTI Day. Students, please get all of your work finished for both NTI Days (Wednesday and Friday). Please stay home as much as possible to avoid the spread of illness. Have a safe and restful end to your week.

Educators continue to develop blended learning strategies. These awesome educators learn how to create personalized engaging lessons using @Nearpod. A huge thank you to Austin Bilbrey a Nearpod PioNear for sharing his expertise! #Eagle4Life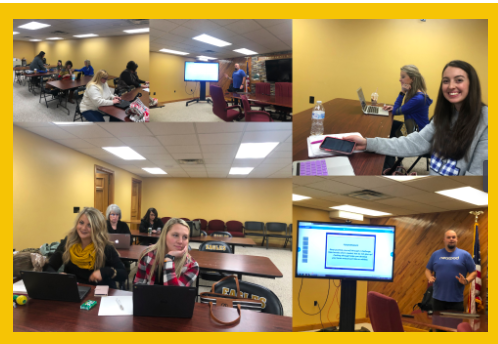 This is Thom Cochran, Superintendent of Johnson County Schools with an important message for all students and parents of Johnson County Schools. This evening, I have been informed that there has been a confirmed case of Hepatitis A in our school district. This confirmed case is a Non-food service staff member at Johnson County Middle School. In addition to that case, we have confirmed cases of both Influenza A and B at multiple schools. As an added level of precaution to our routine cleaning, we will be closing schools tomorrow January 23, 2019. To ensure the safety of our students and staff, extra cleaning and disinfecting will be completed during this time. As everyone has been informed, Kentucky law required that each student receive the Hepatitis A series before the start of the 2018-2019 school year. If your child has completed this series of injections, then there should be no risk. However, if your child has not done so, please take this opportunity to obtain this immunization. Tomorrow will be an NTI Day for Johnson County Schools. Please assist your child in completing all of his or her work; all lessons will be posted by 10:00am. Thank you for your patience and continued support of Johnson County Schools.